Estimated read time: 6 minutes
Picture the scene; you've been away from desk in meetings all day only to remember that thing you were supposed to do for tomorrow morning.
You know, the thing! You've not done it yet! Panic!
Alternatively, you've committed to writing a weekly feature and have suddenly realised that you've got nothing planned for this week and your deadline is fast approaching.
Uh-oh!
Or, you're due to post something on social media but simply have nothing to say. Nightmare!
I know your struggle. No really, I do. I've been there – recently. In fact, I was still there about nine sentences ago.
That's right folks, we're eating our own dog food here with a piece that is as last-minute as a 1990s Manchester United winner but that allows up to keep our How Toosday feature you all love so much ticking over.
Phew!
So, here's some ideas for when you've got no ideas. You're welcome.
There's a blank space on my blog!
Having a blog is great but only if you can update regularly, so being faced with a blank screen is far from ideal. However, there's plenty you can do to beat your writer's block and get typing.
First of all, write what you know. That is to say, write about what you're up to at work. I used to do it regularly when I worked at the University of Warwick, blogging about our social media campaigns as well as other things I'd spotted in the sector.
You'd be amazed at how many people will care about what you have to say.
On that topic, write about what's happening now; sign up for some useful newsletters – I can recommend a particularly good one – and, when they serve you something interesting, offer your take on it.
Even better, let your imagination run wild. When algorithm was the word on everyone's lips in the summer of 2016, I wrote a stupid-but-also-awesome piece trying to decide which celebrity best-represented each major social network's algorithm. Because why not?
Another tactic you can try is starting a regular feature. For instance, our little series on these pages of tips about writing from famous writers? That was done to fill a gap, but it proved popular so has been padded out a bit further.
In fact, why didn't I just write another one of those for this article? Oh well, I've started now…might as well finish.
Of course, failing all of the above you could either simply pad out a load of filler sentences with hilarious gifs or – even better – drop us a line and send us your every-so-often blogs, rather than trying to run your own and running out of steam.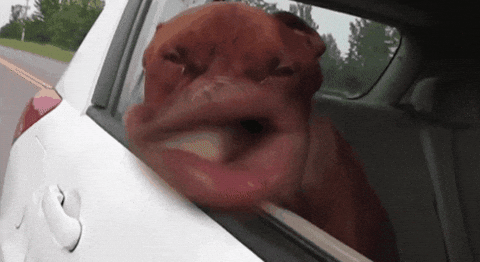 Your choice.
There are gaps in my social media calendar!
Again, you've come to the right place – you know about our free monthly social media inspiration station downloads, right?
Once you've grabbed your free calendar and are up to speed on awareness days and 'on this day' trivia dots, you'll have probably filled a few of those gaps. But there are still other things you can do.
The obvious is to look in your analytics, see what type of content your audience really likes and create more of it.
Another is to not be afraid of a throwback, and re-sharing older links or posts that your audience liked before.
And, of course, a great way to beat social media creative block – and to make your feeds look great – is to head down the user-generated content route. Someone shared a link to your site on Twitter? Re-tweet it with a quick comment. Spotted a great photo of your brand/institution on Instagram? Re-gram it, crediting the original photographer of course and, if possible, getting their permission to do so first.
Maybe even check out our podcast about UGC while you're at it – just sayin'.
If you're still struggling after all of that to fill those gaps, run a social media takeover. That's right, hand the controls over to someone else and let them run the show for a change – you get a chance to recharge your batteries and, assuming you pick the right person for your takeover, you get some great content too.
Don't forget to experiment
Before I go, a great source of content is to run your own experiments and then share the results. Like we did last week when we shared the results of a four-week experiment we ran on our Twitter account.
Again, you'll be amazed at how interested people will be.
Failing all that, you could simply cobble together something that keeps your audience entertained and maybe sneaks in a few links to some of your better, more thought-out content too that people might not have stumbled across before.
Like this very article you say?