Estimated read time: 7 minutes
I'm often asked what we use at the University of Glasgow to create and publish our video content. So without any further ado… drum-roll please, may I present: the 5 piece social media video starter kit!
*If you'd like to be a future From the Inside columnist then please get in touch!*
1 – Camera
It's great how rapidly tech has progressed over the years (except for AI, that scares me). We no longer need to rely on those big chunky cameras that take ages to set up. At UofG we use our phones for around 90% of the video content we create. Not only does this allow us to instantly film wherever we might be, but it's also less intimidating for the people in front of the camera.
What I use:
iPhone 8 (battery life and camera are ace)

DJI Osmo Mobile (now a lot cheaper with the

Osmo Mobile 2*

) 

You're also going to need the

Base

,

Osmo Universal Mount

+

Straight Extension Arm

 (to attach your mic) * Keep in mind that the Osmo Universal Mount and Straight Extension Arm DO NOT work with the DJI Osmo Mobile 2.

Rhode VideoMicro Compact

(a must have for noisy places)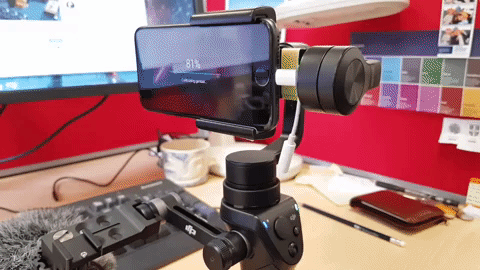 With the iPhone included, this whole setup will cost you in the region of £950. If you have your own phone (usually anything iPhone 6 and up should do) then £250, and you're sorted.
Quick Tip: If you just have a phone and no budget, treat yourself to a £10 selfie stick. It works much better than trying to hold your phone in your hand.
2 – Editing
There is some handy editing software already embedded in your phone and many free apps to use, but nothing does it better than hopping on a computer. We use Final Cut X for all our editing. It allows for brand consistency and multiple formats for publishing: square, landscape, portrait and 360. It also allows us to add subtitles to all of our content.
We all share a 27" iMac computer with an additional screen. This will set you back in the region of £2K depending on the size of screen you're going to get.
3 – Everything changes all the time
We adjust and adapt the content we create on a monthly/weekly basis to keep up. Trying to create content specifically for each channel often presents a logistical challenge but it's something we always strive to do. Square video with subtitles tends to be our go-to format as it works with almost everything. However, vertical video (now with Instagram stories and IGTV) seems to be on the rise more than ever.
Knowing which channel you're planning on publishing your video on before you start filming will help to avoid a headache in editing. Experimenting with long-form (4-5 minutes) and short-form videos (under 15 sec) should be something you try all the time.
'The length of your video should be dictated only by the strength of your content and the channel you're planning on publishing it on.' There's your twitter quote of the day.
4 – Publishing
Your video is now ready, all you need is a visually strong thumbnail, catchy yet relevant title, short provocative copy along with one or two hashtags plus a link (only if necessary), and you're good to go. Anything more than that and it detracts from the content you actually want people to see… which is your video!
Also keep in mind the time of day you want your video to go out, there's nothing wrong holding your video back for a national day and waiting for the right hashtag to start trending. The worst is scheduling content to go out and having to guess the hashtag; get it wrong, and it could cost you a few thousand engagements.
We love putting out a fun video on Fridays, as most people are up for something more light-hearted at the end of the week. I'm always partial to a nice Sunday late afternoon post too.
5 – Budget
That's right folks, you need a budget for social media content creation (shocker). We try to be as frugal as possible and create content on the fly; but when it actually comes to getting eyeballs on your videos you have to pay. You might have a better chance of winning the Euromillions than going 'viral' (I hate that word) organically these days. Nothing too crazy, but if you can get away with £5-6K per year to boost content you're off to a great start.
If you're having difficulty justifying a budget of your own, you can always use someone else's… here's how. Using Business Manager on Facebook and Twitter Ads you can set up multiple ad accounts with separate payment methods. If you've created a video or piece of content relating to a specific department, school or college you can always approach them and ask for £25 – 50 to boost the post to anyone they choose. If they've already allocated a budget for public engagement this could be something they're interested in. Sometimes it works, sometimes it doesn't, but it never hurts to try!
That's it!
We put a lot of effort into ensuring our content is created and posted quickly to keep it exciting and relevant; hopefully some aspects of this 'Social Media Video Starter Kit' will be useful to you too.
*If you'd like to be a future From the Inside columnist then please get in touch!*